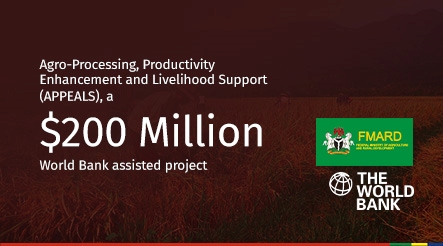 The Agro-Processing, Productivity Enhancement and Livelihood Support (APPEALS), a $200 Million World Bank assisted project, is being implemented through the Federal Ministry of Agriculture and Rural Development in 6 participating states of Cross River, Enugu, Kaduna, Kano, Kogi and Lagos.
The Lagos APPEALS project is intended to enhance productivity of small and medium scale farmers based in Lagos and improve value addition in Poultry, Aquaculture and Rice.
The benefits of the APPEALS Project can be felt in the area of job creation and the reduction in poverty likelihood. To this end, 12,350 jobs have been created across activities listed above and the poverty likelihood reduced by between 5 to 10%.
Furthermore, the project has also impacted, positively, the productivity of rice paddy, fish farming and poultry in the state. Specifically, productivity for rice paddy increased to 3.5 metric tons per hectare from 2% metric tons per hectare; Tilapia production increased from 100kg to 140kg; while broiler production per cycle increased from 1.8kg a bird to 2.35kg a bird.
According to sources at the state coordinating office, the project, which was originally billed to reach 10,000 beneficiaries, has so far empowered a total of 17,467 farmers as of March 2022. This represents a 75% increase in the targeted beneficiary reach.
In the march towards transforming Ikorodu to a broiler production hub in West Africa by 2023, a beneficiary of the programme and a poultry farmer from Erikorodo Poultry Association, Ikorodu, said the project trained farmers in the estate on new technology for broiler production and business plan. These trainings, in his words, have helped them become better farmers and will ensure increased profitability for their poultry businesses.
The project which kicked off on the 23rd of March 2017 is expected to be completed by March 31, 2023.