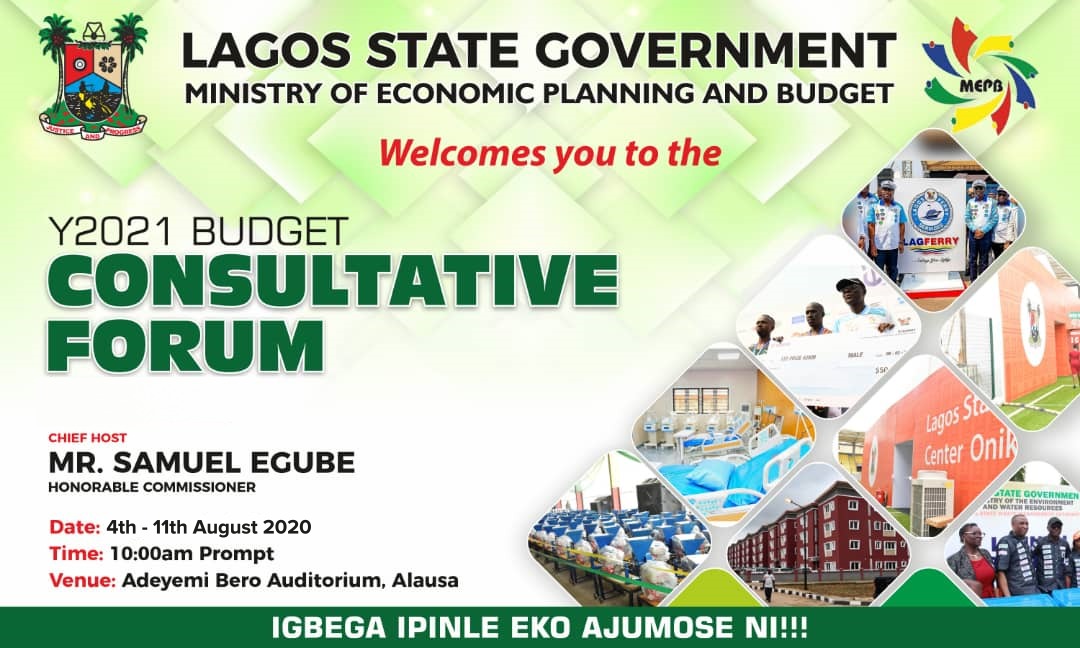 … Begins consultative forum across five divisions
In order to reflect the yearnings of the populace in its 2021 appropriation bill, the Lagos State Government through the Ministry of Economic Planning and Budget on Monday started a consultative forum across the five divisions of the State to seek the buy in of relevant stakeholders into the preparation of the Year 2021 budget.
Speaking at the Day one of the event held at the Adeyemi Bero Auditorium, Alausa Ikeja, the Commissioner for Economic Planning and Budget, Mr. Sam Egube explained that the programme had been decentralized in order to take governance closer to Lagosians.
He explained that the forum will take place in the five Divisions of Lagos State, (lkeja, Badagry, Ikorodu, Lagos and Epe) in order to take the inputs of all stakeholders into cognisance in the State's budget preparation process.
He said that despite the outbreak of covid19 pandemic that made the State government to review this year's budget from the approved amount of N1, 168.6 billion to N920.5 billion, the state has implemented several interventions to minimize the impact of this pandemic.
Egube assured residents of the State that the present administration remains committed to growing the State's IGR to be able to sustain its developmental programnes and projects.
"We will continue to minimize wastages through tighter expenditure controls and promote prudent spending. The administration of Mr. Babajide Sanwo-Olu is committed to participatory and all inclusive governance process," the Commissioner stated.
According to the Special Adviser to the Governor on Economic Planning and Budget, Mr Bayo Sodade, the essence of adopting this approach of holding the consultative forum based on each of the divisions was to further ensure that citizens participate fully and their choices drive government decision making in planning and budgeting for critical infrastructural, economic and social development.
He added that "the forum also provides an avenue to update stakeholders on the half year performance of the budget, the resources available for the next budget taking into cognizance all economic variables and externalities such as the Price of Crude Oil, Inflation, Interest rates, and the effects of the Covid 19 pandemics on the economy."
He stated that rubbing minds with the citizens, also provides government an ample opportunity to share ideas geared towards the "Greater Lagos Project", while also ensuring that the desired interests of the governed are adequately captured in the developmental agenda.
"Our expectation from this forum is that the significant participation in the Budget preparation process by every individual, organization and bodies here-present, would engender smoother implementation of the developmental agenda of the government," the Special Adviser reiterated.
While saying that the success of the present administration in the State rests squarely, on the cooperation of all and sundry, the Special Adviser, however, appealled to all participants at the forum to always fulfil their civic responsibilities through regular payment of taxes, monitoring of government projects and protection of public facilities and infrastructure among others.
He averred that concerted efforts will be made on the part of government, not only to improve overall service delivery by Agencies of Government, but also to improve our Tax Revenues by widening the tax base in order to meet citizen's
Lukman Durojaiye
Public Affairs Unit
Ministry of Economic Planning and Budget